American Battle Monuments Commission and Gold Star Mothers
"I have a rendezvous with Death at some disputed barricade"

Following the Great War, America faced a problem it had never encountered before: thousands of her citizens buried on foreign soil. The Army Quartermaster Corps was tasked with locating and identifying its dead, a service known as the Graves Registration Service. Families were given the option of repatriating their loved ones' remains back to the U.S., but approximately 30% chose an overseas burial. John J. Pershing, commander of the American Expeditionary Forces, promised that "time will not dim the glory of their deeds." In that spirit, Congress established the American Battle Monuments Commission in 1923. Eight cemeteries and fourteen monuments were created to honor their service and sacrifice. The cemeteries were dedicated in 1937 with over 30,000 burials and monuments to more than 4,400 missing in action. Sites would be added following World War II. Meuse-Argonne Cemetery, the largest American cemetery in Europe, is located on the battlefield where the war's final offensive was fought.
During World War I the symbol of a service flag with a gold star was established, identifying families who had lost soldiers. Grieving women became known as "Gold Star" mothers and widows. In the decade following the war, these mothers and widows began lobbying Congress for assistance to visit the final resting places of their loved ones. In March 1929, Congress authorized the use of government funds to pay for mothers and widows of fallen soldiers to visit their loved ones buried on the battlefields of Europe. The Army Quartermaster Corps was tasked again with carrying out this unprecedented program.
To determine the date for each state's pilgrimage, Lou Henry Hoover, the President's wife, drew cards bearing the name of a state or overseas territory. Washington was the twelfth state Mrs. Hoover selected, and at least fifteen mothers and widows of the UW's fallen received invitations. Most accepted, including Maude Betterton, pictured here, at her grave of her son, Cherrill.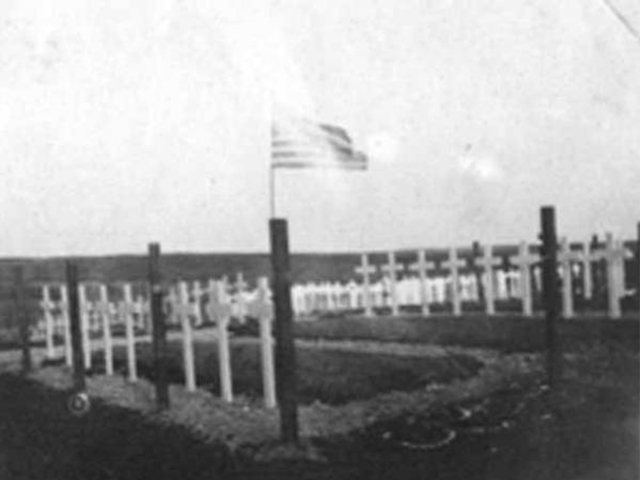 The first pilgrimage left New York harbor for Europe on May 7, 1930. Veteran Army officers acted as tour guides for the all-expenses-paid trips including transportation, lodging, tips, sightseeing, and interpreters. Flowered wreaths, flags, and camp chairs were provided at the cemeteries, and official photographers captured each woman standing at her loved one's grave. Over the course of the next three years, the U.S. government escorted 6,654 Gold Star pilgrims to visit their sons' and husbands' graves in American cemeteries in Belgium, England, and France. No nation before or since has honored the women whose sons and husbands gave their lives in the service of their country.