Mountain Search and Rescue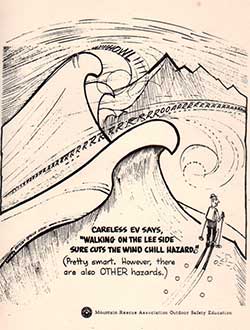 Careless Ev cartoon.
Mountain Rescue Patrol (renamed Mountain Rescue Council in 1948) was established in 1939 in Seattle by a group of veteran climbers including Ome Daiber, Wolf Bauer, Dr. Otto Trott and others. The need was first realized in 1936 with the highly publicized death of Delmar Fadden on Mt. Rainier. Ome Daiber, a well-known climber and Mountaineers member, led the rescue effort. In the following years, authorities continued to call on Ome Daiber and his fellow climbers for help in rescue efforts. The climbers recognized the need for a more formalized rescue service because of the increasing popularity of outdoor recreation, specifically mountain climbing.
As demand for help in the mountains increased, local chapters of the Mountain Rescue Council were established outside of Seattle. Interest in creating a national rescue association began at a training conference at Mt. Hood in 1957. In 1959, the national Mountain Rescue Association was formed including groups from Alaska, Washington, Oregon, Idaho, Montana, Colorado, Arizona and California.
References and documentation of some specific rescues can be found for the 1960 Mt. McKinley rescue, the recovery of Arthur Jessett on Mt. St. Helens in 1952, and the 1969 Curtis Ridge, Mt. Rainier rescue (32). The Mountain Rescue Council and later the Mountain Rescue Association recognized the need to educate climbers and other recreationists in the mountains producing safety information in the form of handbooks, pamphlets and films with the assistance of volunteer members and Seattle-based photographers and filmmakers Bob and Ira Spring.