James Patrick Lee Photographs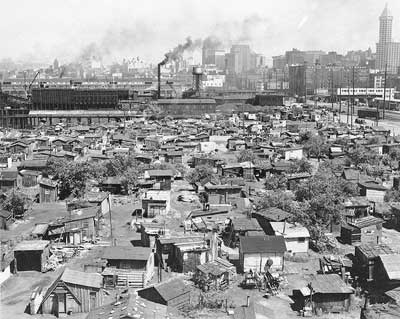 Homeless shantytown, Seattle, 1937.
James Patrick Lee began his career in 1910 as a messenger boy for the Seattle Engineering Department. From 1913 until his retirement in 1957, he worked for and became manager of their blue-print and photographic division which documented the progress of major city construction jobs. In 1922, he advanced from photographer's assistant to the position of full time photographer. His work recorded the development that marked the ever changing landscape of Seattle from the years 1904-1940. This collection contains images selected from a collection of 727 photographs that illustrate the architecural and engineering history of Seattle during the first half of the 20th century.
Included in this presentation of images are works that show: construction projects and condemned buildings; regrade activities from Jackson Street to the Denny Regrade District; shantytowns known as Hooverville that sprang up during the Great Depression to accommodate the homeless and unemployed; pictorial histories of the architecture of the Seattle neighborhoods of Ballard, Fremont, First Hill, Capitol Hill, and Belltown; local businesses in various city sites; labor rallies of the 1930's; and activities of the city municipal services including the Division of Weights and Measures, and the Department of Health and Sanitation.
About the Database
The information for James Patrick Lee Photographs was researched and prepared by the UW Libraries Special Collections staff in 1999. Research, writing, and image scanning were done by Kristin Kinsey. Not all the photographs from the collection were included in this database: the database consists of 269 digital images chosen from a group of approximately 727 photographic prints. The photographs were scanned in grayscale using a Microtek Scanmaker 9600L and saved in .jpg format. Some manipulation of the images was done to present the clearest possible digital image. The scanned images were then linked with descriptive data using the UW CONTENT program. The original collection resides in the UW Special Collections Photographics and Graphic Division as the James P. Lee Collection no. 294.