KRAB-FM Lesbian-Feminist Radio Program Recordings
Sample Searches
Related Resources

Ixchel Takes a Grinning Rabbit For Her Partner
(
image from krabarchive.com
)
KRAB-FM was a non-commercial, educational FM radio station (107.7) in Seattle that began in a former donut shop on the corner of 91st and Roosevelt Way NE. It moved to an old fire station on Capitol Hill and then eventually to 2212 South Jackson, just West of 23rd. KRAB-FM went silent in 1984. Among its dozens of programs, KRAB-FM broadcast one of the earliest American gay and lesbian radio shows in the United States "Make No Mistake About It, It's a Faggot and a Dyke." The program was created for KRAB-FM by Shan Ottey and Paul Barwick in 1971. Ottey went on to produce broadcasts for the Lesbian Feminist Radio Collective including the show WE: Women Everywhere, which featured a format of women's music, news, and interviews. The volatile issue of lesbian separatism eventually split the Collective into two groups in 1975: Amazon Media and Lesbian Feminist Media Collective.
Lesbian Feminist Media Collective went on to produce WE: Women Everywhere, which continued to feature feminist programming while Amazon Media produced Women's Survival Kit for a few more months then dropped it and launched Surviving in the Patriarchy in May 1976. This show focused on lesbian feminist separatist issues, and programs often provided deep analysis and discussion around the topics of the day. Show titles include: Women in Prison, Ageism, Racism, Matriarchies, Classism, Animal Oppression, Prostitution, and Feminist Economics. Show producers conducted numerous interviews with a broad range of lesbian feminists, including authors and musicians, with a focus on lesbian organizations and women in the Seattle area; most of the conversations include some discussion about lesbian separatism. Lesbians from Peru, Japan, Mexico and other countries were also interviewed; these recordings provide a unique perspective on the similarities and differences in lesbian communities around the world in the 1970s.
The collection presented here is approximately half the of the complete collection, the remainder of which is available in Special Collection Reading Room. Copyright issues around music and spoken word prevent us from making the entire collection available online. In addition to full radio programs there are snippets of audio from various off-air events in the studio; these are provided as a snapshot of the happenings at a non-commercial radio station.
Sample Program (image from krabarchive.com)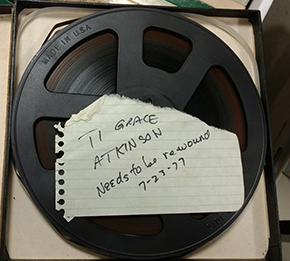 One of the many tape reels to digitize
Representative box of tapes