Doña Manuela Provides Guiding Light
— Laura Tucker, for Peninsula Woman (insert to Peninsula Daily News) 2002, reprinted with permission
Manuela Velasquez of Forks knows what it feels like to be isolated by location, language and culture. She came to Forks from Mexico 23 years ago.
"I didn't speak even a word of English. It was the hardest time of my life." Manuela recalled, noting she and her then husband had planned to stay only six months.
No big dreams
She came from a middle class family in Mexico and never had any dreams of leaving her country. But, her husband had been obsessed with the United States. He had dreams and aspirations for something better for his family.
She had dreams and aspirations of being the perfect mother and housewife, like so many Mexican women who came before her. It was their culture, she said.
Manuela's saving grace when they moved to Forks was her children. Four of her five offspring were enrolled in school. They brought home many books and had plenty of homework. By helping them with their schoolwork, Manuela slowly but surely learned English.
"Children have an amazing capacity for learning," Manuela noted.
"In three months they were starting to speak English. In six months, they were speaking English fluently," she said, noting she credits her children for her American education beginnings.
Forks is home
Despite the rough start on the Peninsula, Forks has become home for Manuela.
"Now, this is my home. When I visit Mexico, I get homesick for Forks. I miss the rain," she laughed, noting that the wet weather is something she learned to live with.
She said she gave fleeting thought to moving to another state after her children grew up. Her son, the youngest, is now in college. But, she said her grandchildren are close by and this is home.
She would not abandon the dozens of people who have come to depend on her, either. Spanish-speaking immigrants to the West End soon end up at Manuela's door. They find a sympathetic ear and a helping hand in "Dona Nela."
" I know how it felt, not being able to communicate," she said. " It's sad because some people think you're dumb, and that's not the case."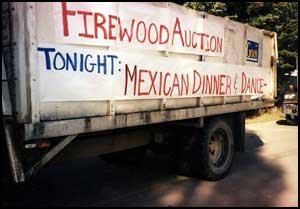 Forks is a small community, she pointed out, and when Spanish-speaking families moved there they would be told to seek out Manuela. Because her own life had once centered on packing shingles (her job), the store, the library, the bank and the school, Manuela knew the newcomers' feelings of disconnection.
"My kids were the only Hispanics in the school," Manuela said.
" It was very embarrassing for me to speak when I knew I wasn't speaking (English) properly," she added.
But, her children were eager to help her. They corrected her when she mispronounced words. With a chuckle, she said even her grandchildren (all born here in the United Sates) will help her learn new words or how to pronounce certain words.
It wasn't just the language challenge Manuela stepped up to. In Mexico, she finished only the fourth grade. She had never learned how to drive and never had dreamed of being an independent woman. She ended up getting a divorce and her 15-year-old nephew taught her to drive.
When her job as a shingle packer ended, she was separated and needed a way to support her five children.
She had helped at the hospital and some social agencies as an interpreter, but had not been paid for those services. That changed, however, and interpreters were to be paid if they could pass testing for health and social services interpreting.
Independency
By then Manuela had become the type of woman who knew she could do anything she put her mind to. She passed the certification without any problems. That wasn't enough, however, for those who knew Manuela could accomplish more. She was encouraged to get her GED to try for a better job.
"So I passed it," Manuela said. And, the people who had encouraged her to try for her GED said, "now you can go to college."
Manuela did attend college and got an associates degree, which enables her to work as a teacher's assistant at the Forks school and teach parenting and childcare classes to immigrants.
She said she loves working with the children at school. She became a citizen in 1999.
"Children don't see differences," Manuela said. She said she speaks to the children at school in Spanish, happy to report that no parent has complained.
For the past five years, she has taught parenting classes off and on. The classes, Los Ninos Bien Educados, are specially designed for Latino parents, Manuela said. The sessions center around talking about their culture and how to adapt to a new lifestyle without losing their culture.
The latest classes, the Incredible Years, are being funded by a Caroline Foundation grant, and are held on Saturdays at the school. The sessions are offered in Spanish for Spanish-speaking individuals and are centered on dealing with behavior problems.
Manuela said it is difficult for parents to know how to deal with situations that crop up as children grow. It is especially difficult for parents whose command of English is limited while their children speak English fluently. Those parents often feel at a disadvantage and do not fully comprehend what is going on. Nor do they fully understand the laws of their new home.
" Pretty soon, the kid is in control," Manuela said.
Manuela said the need for these classes is definite. She has an assistant and new cirriculum for this latest class. Many of her parenting classes have been set up through the Prevention Works Coalition.
Manuela said those classes are more than just prevention of drug and alcohol abuse among young children. They are more than just helping learn the skills to cope with a new world and new challenges with their children. They promote understanding and diversity.
"It's beautiful to be different," Manuela said.
She noted there have been several quincineras ( a Mexican tradition) held in the Forks area over the past decade, and the most wonderful part of those has been to see the mixture of the cultures and nationalities represented. The girl being honored for her 15 th birthday selects a court of seven boys and seven girls. Manuela said the courts have not only included family members, but Caucasian and American Indian children as well.
Manuela sometimes does class presentations at the school on diversity. In those classes she describes the world as a garden.
"If we only had roses, wouldn't it be boring?" she said.