Bilingual Demands on Increase
— Dean Mosiman, Peninsula Daily News 1993, reprinted with permission
Teaching: Quillayute Valley schools tackle Hispanic language barrier
Forks — It was a simple math problem, but second-grader Alex Pineda hesitated because she didn't understand her teacher's instructions. Within minutes, bilingual teaching assistant Elena Velasquez arrived and translated the directions to Spanish, and Pineda soon had the answer.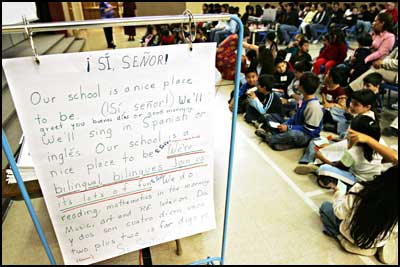 Such are the daily challenges and triumphs of educating the growing Hispanic enrollment in the Quillayute Valley school district. The school district has historically averaged about 10 Hispanic students, but the number has increased in the past five years to about 70, said Bob Harmon, assistant to the superintendent. The district expects the influx to continue.
"I'd say it's still increasing," Harmon said.
More than 50 Hispanic children attend the elementary school.
"They come with varying skills," elementary school principal Sam McElravy said. "Many come with absolutely no English at all, and no education at all. Some come with just Spanish but are fairy well educated. Some speak English. It's a complete hodgepodge."
Juan Carlos Gonzalez, a third grader from Mexico in his second year at Forks Elementary school, who spoke no English when he arrived, had a tough time communicating at first but now feels comfortable at school.
He's one of the fastest to catch English," Velasquez said. " He's reading in English now, and that usually doesn't happen in the first year."
Gonzalez' rapid progress is because of his age- it's easier to teach English to the younger students- and the fact he had some education in Mexico and could read in Spanish when he arrived, Velasquez said.
Bill Berglund, the middle school principal, said it's important to help students- especially older ones- adjust to cultural differences. Although educators are usually dubious about commercial television as a learning tool, Hispanic students who watch TV seem to adjust quickest, he said.
Older students have even more trouble adapting, high school principal Jim Bennett said.
This year, the district is using $45,000 in state Transitional Bilingual Program and $17,000 in federal Chapter 1 Migrant Program money to hire four full- and part-time teaching assistants, Harmon said.
For the first time, the district used basic education funds this year to hire a certificated bilingual teacher, who works at the elementary school.
"I feel real good about the service we've been able to provide these students," Harmon said. "I think we've made some real headway."
Basic skills
It's often a tough start for the kids.
"They don't even know where the bathrooms are at, or are not even able to ask where they are because of the language barriers," McElravy said of a Hispanic student's first days.
The district tries to introduce the students to the age-appropriate grade and then help them as much as possible, Harmon said.
Ariadna Farias, who came from Mexico while in kindergarten and is now in third grade, said she spoke no English and couldn't make friends when she started school.
But teachers and classmates helped her to speak and read. At the elementary school, students get small and large group instruction in a special bilingual classroom and tutoring from teaching assistants in regular classrooms.
Rick Much, the bilingual teacher, opens or closes classes with a song, game or activity to relax students and build oral language skills, vocabulary, and self expression.
On Mondays and Wednesday, students have English reading groups and Tuesdays and Thursdays the reading groups are Spanish. The strategy is to teach English and still maintain a good learning pace of other subjects.
"I see a lot of enthusiasm and motivation in the students," Much said. "The children come into my room smiling and feeling good, and they learn that way."
The bilingual classroom, Velasquez said, offers security for the students.
" They have someone they can go to if they have a problem," she said.
In high school, students take English as a second language, and this year, English and history classes are taught by the bilingual tutor, Bennett said. Hispanic students often take Spanish class because some aren't literate in their native tongue, he said.
Rocio Arellano, 18, who came to Forks from Mexico in July, said the hardest part about school is writing in English. "Words go by very fast, but I try to keep up," she said.
She is making an effort to graduate. "In the afternoons I go back to school for more English lessons," she said.
Fitting in
The hardest part is coordination, and it's toughest in the elementary school because there are so many students.
Most of the challenges are logistical ones, finding times to take children out of the regular classroom that don't impede regular classroom teaching, Much said.
Separating students from the regular classroom too long can also undermine the student's sense of self-worth, he said.
One way of boosting Hispanic students is to schedule periods for instruction about other cultures and teaching Spanish as a second language for all students, Much said. During those times, Hispanic students can demonstrate knowledge and get esteem from peers, who learn that struggles may result from a language barrier and not a lack of intelligence, he said.
The children usually get strong support at home and through organizations such as the Chapter 1 Migrant Parent Advisory Committee, Harmon said.
"They're shy, but they help when we ask," McElravy said of the parents. " As a group, they're very, very cooperative with the schools."
An undesired impact of bilingual education is that Hispanic students sometimes abandon Spanish culture and language at home, the educators said. "That creates a little bit of friction with the family," McElravy said.
The educators don't deny there are problems.
"There are some prejudices out there," Harmon said. "That's an unfortunate fact of life."